Bill Maher calls out Obama on Offensive Joke
Author:
Jon Martin
|
Saturday, May 8th, 2010 |
On this week's 'Real Time with Bill Maher', Maher sat down with Salman Rushdie, Alexis Glick, and David Frum. During their lengthy discussion, Obama's performance at the White House Correspondents dinner came up. Bill Maher pointed out that Obama made a pretty weird joke, that not only implied pedophilia but also made light of the deaths of those attacked by predator drones in Afghanistan and Iraq.
I agree with Maher for the most part, when I heard that joke I was surprised as well. It wasn't a joke the president should be telling, the image of Sasha and Malia being hit on by the Jonas brothers is a little odd too. Maybe Obama should wait a few years before making a joke like that.
On the predator drone part of the joke? Really disrespectful, Maher makes a good point, he and Stewart and Colbert can say things like that because they aren't actually killing people with predator drones, under Obama's administration, he IS having people killed by predator drones. Bill Maher is the kind of anti-propaganda that really helps illuminate people to what is the truth. Who else would just say The president is killing people with predator drones? That's such a ballsy comment.
Might even be more ballsy to discuss Obama's joke about his daughters but even I won't go there, I had something to say but it might be so offensive the secret service will find me.
Regardless, Bill Maher needs to keep doing what he's doing… and Sasha and Malia should get some rape whistles for when the Jonas brothers are around.
I've said too much…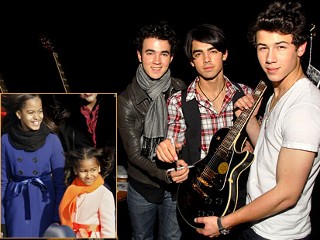 Here are some other hilarious drone-related stories:
Current Pageviews: 3,646 views
This entry was posted: on Saturday, May 8th, 2010
Tags and Categories: television, video
Follow Article Comments: RSS 2.0
Comment/Trackback: Log in to comment.